Frequently Asked Questions
Alumitiles are 10" x 10" glossy, vibrant, HD aluminum photo panels which stick to and unstick from your walls for easy repositioning. Alumitiles bring your walls to life without any drilling, nailing or hanging! They float off of your wall for a unique gallery-style display you will love.
What is the difference between Alumitiles and other stickable wall tiles?
Alumitiles are made of metal.  Your favorite images are infused into aluminum. Other companies print directly onto foam board, resulting in a lower quality, matte appearance.
Alumitiles are larger. Other companies sell 8 inch x 8 inch wall tiles which can be tough to see from across the room. Alumitiles are 10 inches x 10 inches, providing great visibility from anywhere in the room!
Alumitiles are higher definition. The process used to create Alumitiles is the preferred method of photographers. Your tiles are not printed, they are permanently infused into the HD aluminum tiles.
Alumitiles are shinier. Unlike printing directly to foam board, Alumitiles have a beautiful and vibrant glossy finish so that it looks like your image is inside of glass.
You can easily clean Alumitiles. If your tiles get dirty or dusty, simply wipe them down with a wet washcloth or use a household glass cleaner to clean them and make them look brand new.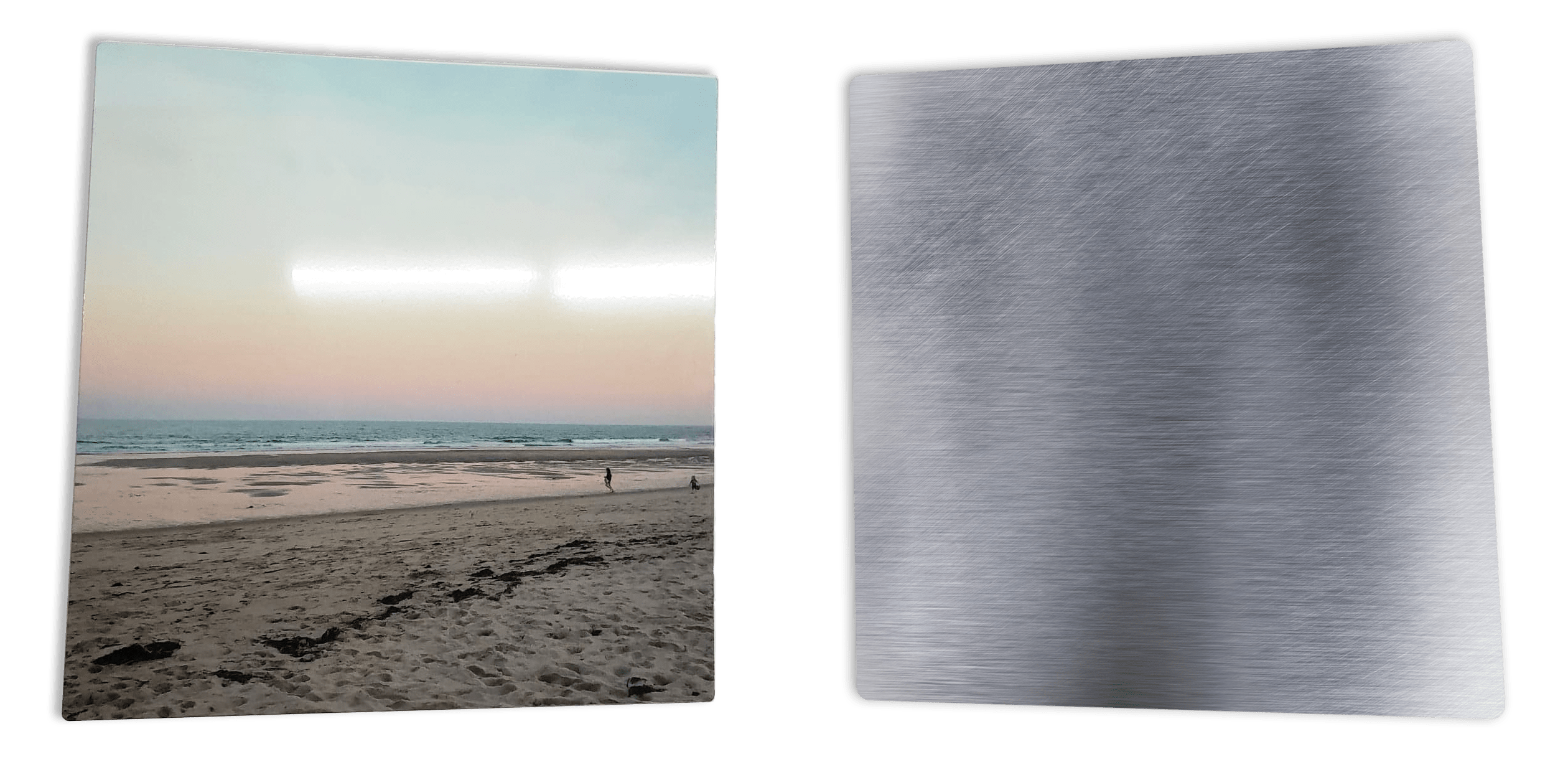 Are the tiles easy to mount?
Yes, Alumitiles mount to your wall with a special adhesive backing, which gives you the ability to remove and re-position your tiles to any location you'd like without any mess or sticky residue!
Will my walls be damaged?
No, our sticky pads are uniquely designed to prevent damage to walls.
Will Alumitiles work on any wall?
Alumitiles stick to most surfaces, but we recommend a flat, painted wall for best results. Clearing your wall of any dust prior to mounting will ensure a good solid stick, and will help maintain the stickiness of the adhesive no matter how many times you reposition your tiles!
Can I clean my Alumitiles?
Yes! You can clean your alumitiles with a wet washcloth or a household glass cleaner.
How much do Alumitiles cost?
Are Alumitiles offered in any different sizes?
Currently Alumitiles are only offered in 10" x 10" squares. We plan on adding additional shapes in a future update.
How fast will my order arrive?
We strive to get your images infused into the metal and shipped within 2 - 4 business days of your purchase. As such, you can typically expect to receive your order within 4 - 6 business days!
At this time, we do not offer an expedited shipping option, but plan to add this ability down the road.
Is there a minimum photo resolution I should use?
The quality of your Alumitiles depend upon the quality of your images. The process we use is capable of producing a very high resolution tile. To get a good print, a photo should be a minimum of 100 dpi (dots per inch). The higher the dpi of the photo you provide, the higher the quality your tile will be. Most more recent models of smartphones typically will take high enough quality photos for a good print! We highly recommend NOT using images which you have downloaded from Facebook or Instagram. These companies compress their images which affects the quality dramatically.
Have additional questions?
Feel free to reach out to our support team at support@alumitiles.com! We typically respond within 2 hours of receiving requests.